Why All Pet Lovers Should Consider Pet Insurance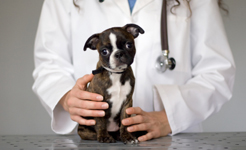 Many people think that pets aren't expensive to keep, but many of these people haven't gotten an expensive surgery bill from the vet. Pet health costs can run in the thousands of dollars and sometimes can lead you with difficult decisions to make. Protect yourself against the risk of expensive vet bills with pet health insurance coverage.
A great place to look for pet insurance is online. You can get online insurance quotes from several sources before you make your final decision. But with so many plans out there, how do you know which one to choose? Consumer Affairs has published a Pet Insurance Guide that reviews several different plans. Because there is no one plan out there that is right for every pet owner, here are some questions to consider:

1. What kind of coverage does the plan offer?
There are many different types of pet health insurance policies available. Some policies cover only accidents, some cover accidents and illnesses, while others offer coverage for accidents, illnesses and preventive care. The preventive care coverage can include certain customary annual costs of routine vaccinations, flea and heartworm preventative medications, routine annual physical exams and lab tests, and other preventive care as outlined in the policy.

2. Is there a deductible? How much is the deductable?
Just like with human insurance, different plans have different deductibles. You'll want to choose a plan that fits your budget.
3. Are certain conditions excluded?
Pet insurance exclusions can vary depending on the policy chosen. Common exclusions include pre-existing medical conditions, cosmetic and elective procedures, fertility and pregnancy.

4. Can I use my own veterinarian?
It depends on the plan. If you want to ensure that you can continue seeing your chosen veterinarian, be sure to choose a pet insurance plan that allows for this.
Giving pets the ability to live long, healthy lives is a huge responsibility. This requires us, the pet owners, to provide them the best care possible. Purchasing insurance is one way to help ease the rising costs of that care, especially in the long run.