Mobile Adoption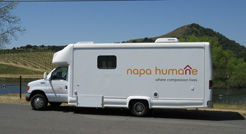 We never stand still…unless we're parked!
Purchased with funds raised from the first "Cause for the Paws" at Turnbull Wine Cellars in 2004, this specially designed state-of-the art vehicle debuted in May 2005 with a series of celebratory events in Napa, American Canyon, Yountville, St. Helena, and Calistoga.
The Napa Humane Mobile Adoption Unit allows us to assist our partners in animal welfare throughout Napa County by regularly taking animals from shelter and foster environments out into the community, increasing their chances for adoption into loving homes. It has a climate-controlled interior for transporting animals, generous caging with roll-up doors for viewing the animals from the exterior, and doors at the front and rear of the vehicle to allow a flow of foot traffic through the interior to view even more adoptable animals.
This vehicle allows Napa Humane to extend its work beyond any shelter walls. To volunteer for our adoption events, please complete our volunteer application.
Check out our events calendar to learn about scheduled mobile adoption events throughout Napa County. See you on the road!