Napa Humane microchip clinic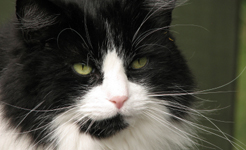 Increase your pet's chances of finding his way home by having him microchipped at Napa Humane Spay/Neuter Clinic any Friday from 9:30 a.m. until 1:00 p.m. - no appointment necessary! Or, we can microchip your pet while here for a scheduled spay/neuter appointment.

Napa Humane uses the Found Animals microchip which is in compliance with the International Organization for Standardization (ISO) frequency standard supported by every major pet welfare organization in the United States, including the American Veterinary Medical Association (AVMA).
The fee for a microchip implant is $11 which includes the initial registration. For your pet's safety, be sure to update your contact information if you move, change your phone number or other contact information.
Is your pet already microchipped? Come to one of our free "chip check-ups" where we will scan your pet and give you information about your pet's microchip so that you can ensure that your contact information is up-to-date.