Napa Humane "chip check-up"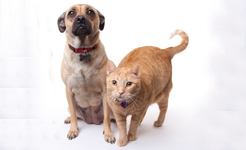 Perhaps you had your pet microchipped several years ago and have moved, changed your phone number, or email address without ever updating your contact information with the microchip company. Or, maybe you're not even sure of the number or what type of microchip is implanted in your pet. We want to ensure that the information attached to your pet's microchip is correct and up-to-date so that if lost or injured, your companion can swiftly find his way home.
Simply bring your pet by Napa Humane's Spay/Neuter Clinic Monday through Friday between the hours of 7:30 a.m. until 4:30 p.m. and we'll scan your pet for a microchip. We'll be able to tell you the manufacturer of your pet's microchip, and let you know how to reach them so that you can call and update your personal contact information.