Humane Education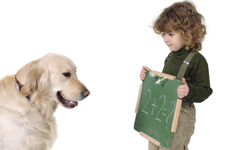 When you teach a child to be kind to animals, you help pave the way to a brighter future for all living beings.
Animals benefit because the next generation has learned to treat them with respect and compassion, as we strive to eliminate instances of animal cruelty. Children benefit because learning about compassion and empathy early in life builds moral character, reduces violence, and builds a sense of empowerment and responsibility. And, society as a whole benefits when its members are more caring towards each other and the animals who live among us.
Napa Humane's humane education program teaches children and adults alike the traits needed to be caring, thoughtful, respectful citizens: responsibility, caring for one another, trustworthiness, knowledge, respect, and a positive attitude.