Classroom Curriculum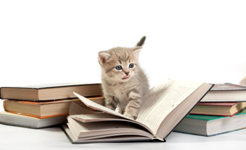 KIND News

Napa Humane proudly offers subscriptions of KIND (Kids in Nature's Defense) News, an award-winning classroom newspaper, to every kindergarten through fifth grade classroom in Napa County. KIND News is delivered bi-monthly, September through May. A subscription includes access to reproducible worksheets, a calendar of fun facts, and tips on helping animals, people, and the environment.
Published since 1983 by The Humane Society of the United States, KIND News encourages good character in children with an emphasis on kindness to animals, respect for natural habitats, good citizenship, and peaceful conflict resolution.
KIND News is a fun, cross-curricular teaching tool that gets kids into the habit of reading and writing habit. Every issue includes fascinating facts about animals, tricky brainteasers, KIND Club Projects, and inspirational celebrity profiles. KIND News also gives children a forum for expressing their opinions and contributing original short stories.
Learn more about KIND News!
"Safe Around Dogs and Cats"
The Center for Disease Control (CDC) reports that 4.7 million people are bitten by dogs each year. It is estimated that by the age of 12 years, half of all children in the United States will suffer a dog bite. But dog bites aren't the only concern for children. Cat bites and scratches pose risks as well.
Napa Humane has created a program for children grades K through 3 and grades 4 and 5 to teach them safety around dogs and cats at home, while visiting homes with dogs and cats, and in the community.
Using tools such as photos of animals that capture posture, body language, and situations to avoid plus a live-action video, our humane educators are ready to come to your classroom!
"Responsible Pet Care"
Helping our children learn how to care for pets responsibly and lovingly can teach a number of life lessons that help lead to them becoming responsible adults in many aspects of their lives.
Napa Humane has created a program for children grades 2 through 5 to teach them how to properly care for their pets. Veterinary care, exercise, housing, grooming, and humane care are discussed.
Interested in offering one or both of these 45 - 60 minute presentations to your students? Please contact us by email or by calling 707.255.8118 x202.