When You Can't Keep Your Pet -
Tips for Finding the Right Home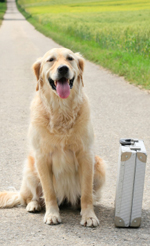 We understand that there are times when a pet just isn't able to stay in his/her home. Perhaps an owner passed away and there isn't a family member able to care for the pet. Or, two dogs in the home are fighting to the point where one is incurring serious injuries and, after consulting with a professional behaviorist, it is determined the safest thing is to re-home one of the dogs. Whatever the reason, we want you to have the tools and information needed to find a good home for your pet.
Suggestions for placing your pet:
Advertise through friends, neighbors, and local veterinarians.

If you got your pet from a breeder, shelter, or rescue group, contact them and ask if you are able (or obligated) to return the pet.

If you have a purebred, contact the area rescue groups to see if they have space. Note: generally such groups rescue directly from shelters and not from individual homes as sheltered animals are at greater risk for being euthanized.

Spay or neuter your pet if not already altered.

Ensure your pet is up to date on vaccinations.

Wash and groom your pet before taking pictures or showing your pet to potential adopters.

Prepare a history of your pet including veterinary visits, favorite treats and toys, diet, likes and dislikes, etc.

Screen all potential adopters and ask them to complete an adoption application. Here are some examples of questions to ask:

What is your experience with pets? Do you currently own any pets? Provide information about them.

Do you rent or own your home? If you rent your home, are pets allowed?

How much time are you at home and what arrangements will you make for a pet when you are away or if you become ill?

Have you ever had to re-home a pet or surrender a pet to a shelter? Why?

Does anyone in your home have allergies?

May I visit your home before placing my pet there?

May I have permission to speak directly to your veterinarian about your history with animals?
Advertising your pet:
Advertise your pet and charge a nominal fee. Please do not give your pet away "free to a good home." You have invested time, energy, love as well as provided for basic needs and medical care. Asking a fee will not deter good families but may stop unscrupulous folks.
Make flyers which display your pet's photo and put your contact information on it. Ask your vet to post it in his/her office. Put them up at work. Ask to post them at the local pet stores, grooming establishments. Post them at your church, on community bulletin boards, and at grocery stores. Give them to your friends and family and ask that they post them where ever they can.
Make an ad on Craigslist - being careful for your safety and that of your pet - just like on any online community.

Place a carefully worded classified advertisement in your local or regional paper.
When all else fails, or if the pet needs to be placed immediately:
If your pet needs to be placed immediately, ask family or a friend to take your pet for a short period of time, or board your pet to allow you some time to make permanent arrangements.

Surrender your pet to the Napa County Animal Shelter. A shelter is not an ideal place for any pet, but in situations when time is of the essence an animal shelter may be the best the pet's best chance for finding a good home. Please call 707.253.4382 for information about surrendering your pet to the Napa County Animal Shelter.