Friends of Napa Humane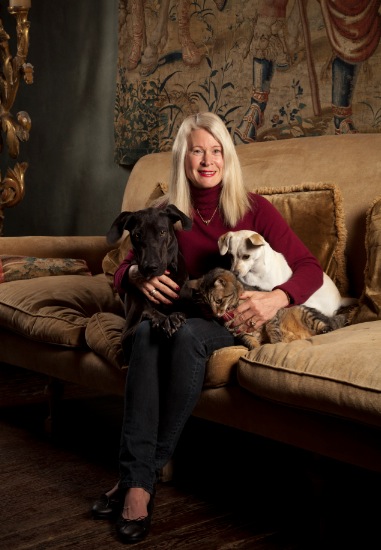 Petra and Greg Martin are the proprietors of Martin Estate Winery, and share the Rutherford Estate with daughter Greta – when she comes home from college for a visit – and with their adopted companions. The pets at Martin Estate are an integral part of the family: four-year old Great Dane/Doberman mix Baccha, two-year old Terrier/Chihuahua mix Romeo, and Momo the cat, who is now 13 years old and has special needs, yet from all observations, pretty much still runs the show!
Martin Estate's stone chateau was built in 1887, and when the Martins purchased the 12-acre estate almost two decades ago, they decided to restore the winery, grounds and building while maintaining the original 18th and 19th century feel of the historic property. And, oh, what a spectacular labor of love it was and still is. Dedicated to making the very best wine sourced exclusively from their ultra-premium eight-acre "Puerta Dorada" vineyard, the Martins embarked on their journey to produce Cabernet Sauvignons that would compare to the First Growths of Bordeaux. And just as it was in 1887, all Martin Estate Cabernet Sauvignon is made on the premises: "Estate grown, produced and bottled," their motto being "A Classic is Forever"®.

The Martin family is inspiring in thoughts and deeds fostering a peaceful and respectful environment for people as well as their companion animals. We are thankful for their generous support of Napa Humane's programs and services dedicated to doing the same in our communities.

To learn more about the people that make Martin Estate – and the wine – special, please visit www.martinestate.com, connect with them on Facebook, or follow them on Twitter.

Here's to all the two-legged AND four-legged of Martin Estate!

Want to join our roll-call of "Friends of Napa Humane?" Please call Jane Albert at 707.255.8118 x201.