About Our Clinic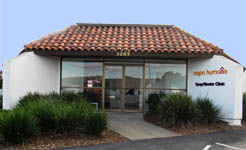 Reducing pet overpopulation is one of the main goals of our organization. Simply put, too many pets and not enough homes results in euthanasia of loving companion animals.
To help ensure that there are enough homes for all pets, Napa Humane plays a leading role in reducing the number of unwanted animals born. Since 1990 we have operated an affordable Spay/Neuter Clinic in Napa, available to all residents of Napa County.
The Clinic is staffed by licensed veterinarians and skilled, professional veterinary support staff. In its history, we've spayed/neutered as many as 5,000 pets each year, microchipped over 20,000 animals and have provided affordable vaccinations to many thousands of companion animals to help ensure a health pet population.
We are able to offer these services at affordable prices as our costs are subsidized by private donations, grants, and fundraising activities. Although we do not screen clients based on their financial ability, our desire is to help those with limited finances care for their pets. Our intent is not to stand in place of full-service veterinary care - we strongly recommend to our clients that they establish a relationship with a full-service veterinary clinic that will be able to provide all of the services their pet may require.
The Clinic is open Monday through Friday from 7:30 a.m. to 4:30 p.m. Please call for a spay/neuter appointment or complete the on-line form to request an appointment. Just need vaccinations or a microchip? Come to our drop-in vaccination/microchipping clinic any Friday from 9:30 a.m. until 1:00 p.m.
Spay/Neuter Clinic
3265 California Boulevard
Napa, California 94558
707.252.7442
clinicinfo@napahumane.org
---