Our History, Our Culture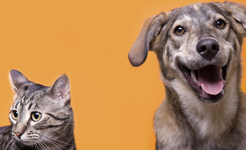 Napa Humane (the Humane Society of Napa County & SPCA) is a non-profit organization incorporated in 1973. Formed in recognition of the need for a higher standard of animal care in Napa County, our founders worked closely with the principal municipal animal services agency at the time, advocating for more humane treatment of homeless animals in their care.
They began, in part, by offering a spay/neuter referral service - the first of its kind in the county - and by doing so, took the first steps in making a significant impact on the problem of pet overpopulation. Through the years, the organization grew and flourished, adding lost and found services, a small shelter formed with temporary structures for adoption adjacent to the Napa County Animal Shelter, and adding humane education to its program offerings. And, in 1990, the Society acquired a completely equipped veterinary clinic on California Boulevard in Napa, converting it to a high-volume, affordable spay/neuter clinic.
In 2001, the organization was notified that the Napa River Flood Control Project necessitated the razing of its shelter, along with the County's municipal facility. The County was able to immediately rebuild a large and modern shelter with public funds, and the Humane Society was compensated modestly for its facilities but not for the land as they merely leased the site on which they rested.
However, this seemingly devastating blow to the organization truly resulted in strengthening it. The loss of the shelter triggered a very critical step back to carefully and strategically plan for the future and we breathed new life into the organization by closely examining all fiscal and internal practices to ensure the long-term viability for the agency and by creating a new vision for Napa Humane.
We emerged a much stronger organization and ready to take on the future. We have assumed a very broad role in animal welfare in our communities - but it does not include rebuilding or operating a sheltering facility.
Simply put, the traditional approach of warehousing homeless animals is, at best, a "band-aid tactic" and does not solve the problem. Building another shelter would be the easy work - the difficult work is keeping animals out of shelters in the first place. And that is what we chose to use our resources to find and facilitate long-term solutions that allow us to save the most animals in our communities, not just the few we would be able to shelter in a new facility.
Unconventional? Perhaps. But we believe that the answer to the problem of homeless, abandoned, and neglected companion animals lies in changing attitudes and practices that lead to irresponsible pet ownership, as opposed to simply building more cages and kennels. We are fueled, in part, by the fortunate and continuing trend that we began to see beginning in 2002 of a steady decrease in the number of companion animals surrendered at the Napa County Animal Shelter. We are confident that our current strategic direction and mission will continue to drive those numbers even lower.
Recognizing that companion animals are an important component of healthy communities we've grown to consider Napa Humane as a community service organization. Our programs and services are designed to address the needs of companion animals - but also to provide support, education, and assistance for all the people who care for and about them.
We invite you to join us as we dedicate ourselves to this new vision for animal welfare in Napa County and to the important work of improving the lives of companion animals by celebrating and strengthening the human-animal bond.